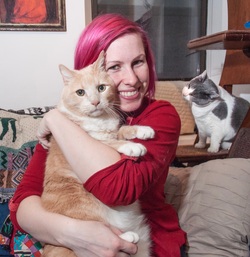 My name is Jennifer Rock and I help people eat well, lose weight, and improve their health through diet and exercise. At times, eating healthy can become a stressful and complicated endeavor, especially if you have struggled with losing weight, or maintaining motivation to eat healthier. You may have become tired of the seemingly endless fad diets, the sensationalized media reports debating what is healthy to eat and what is not, and in general, the landslide of available information on food and nutrition. I can help you sort through all of that so that you can succeed in finding a nutrition plan that works for you.

I received my Masters in Nutrition Education from Columbia University, Teachers College. I am a registered dietitian and have experience in adult and pediatric nutrition, weight management, and medical nutrition therapy for a variety of chronic diseases in a variety of exceptional settings, including the Hospital for Special Surgery, the NY Department of Health and Mental Hygiene, and Gay Men's Health Crisis. I hold active member status with both the American Academy of Nutrition and Dietetics and Dietitians in Integrative and Functional Nutrition.

---
I look forward to the opportunity to work with you.