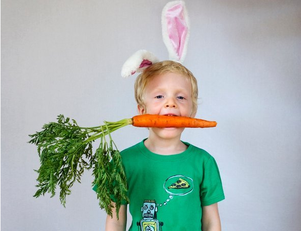 ​
This article by Maryann Jacobson is wonderful, and before you dive into today's topic of discussion, I highly recommend you read it.
The writing raises two very good points about kids, as well as adults, and nutrition: kids don't respond to facts and figures about nutrition and calories. They're far more likely to respond to emotional qualities like whether something is yummy. I was lucky enough to grow up eating "yummy" foods that happened to be healthy, and learning to love vegetables because of it. It was never driven home for me that anything effected my weight. I avoided spinach as a 6-year-old be
cause it was mushy and yucky, and I loved broccoli because my mom would put cheese on it and that was awesome. And my mom never quit introducing the yucky foods to me, and at some point I turned around and decided it was pretty ok with the right amount of soy sauce. But, it was all about taste.
Which is why, with my adult clients, I don't rewrite their diets overnight. I take what they're eating and say, "OK, lets try a small change." Go ahead and have your pizza, but I want to see a side salad with it. Have your peanut butter, but try putting it on a piece of fruit instead of a sandwich and see if you like that. More times, I end up recommending recipes over food changes and restrictions, because my clients get bored with their "healthy" foods and need to know that vegetables can be more than salad every day. Taste matters, and it's important to me that my clients enjoy eating healthy, not just because it leads to feeling healthy, but because it's a meal worth looking forward to. That's the kind of reaction that leads to lasting change.